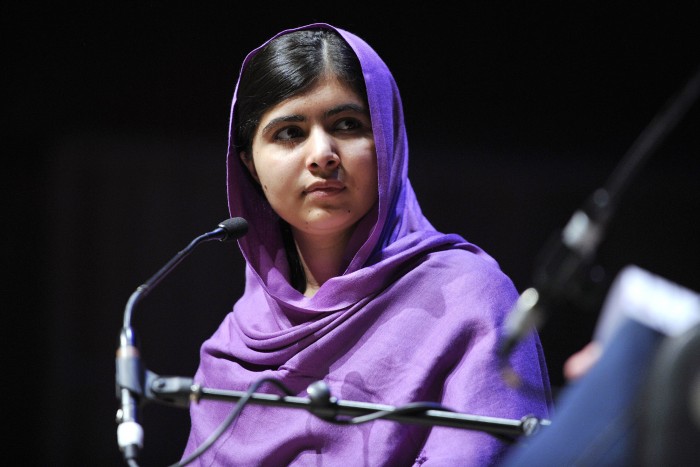 If there were ever a woman who created a league of her own, it would be Malala Yousafzai. When the teen took a bullet from the Taliban in October 2012 for campaigning for girls' education, she instantly became a worldwide heroine. Since her recovery she has continued campaigning for child rights and education, won the 2014 Nobel Peace Prize and worked on a biography titled I Am Malala. This year, her story was taken to screen with the documentary He Named Me Malala.
If you were hoping for a poetic tribute to this incredibly inspiring young woman, then this film just might make you shed a tear. If you were looking for a more intimate, journalistic angle that explores Malala's psyche and the controversial questions surrounding her, then this film may leave you hanging.
Most of the film skips quickly through different aspects of Malala's life: burgeoning fame, adjusting to life in England, her humanitarian work and so on. Yet the film only offers glimpses into these windows and doesn't stick around long enough to ask more challenging questions (the closest it ever came was during an interview when the filmmakers notes that Malala doesn't seem to discuss her suffering). In fact, the film dodges certain burning questions surrounding Malala's fame. Would she have become famous if the Taliban hadn't attacked her? How do we see Malala differently than Pakistani people? Did she have to change anything about herself in order to rise to popularity in western media? Is fame preventing her from an easy adjustment to life and school in England?
Something the film does address very well is her relationship with her father. The film begins with the story behind her name: she was named after Malala: a legendary Afghani teen who inspired courage in her people during a battle with the British in 1880. She led them to victory, but at the cost of her own life on the battlefield. Throughout the film we wonder if Malala's name destined her to be the activist she is today, and whether her father – an educator and activist himself – pushed her to be all these things. In one quote she asserts that everything she had done up until the near fatal accident has been her own choice:
"He named me Malala; he didn't make me Malala."
Finally, we arrive at the true message of the film: destiny is chosen, not given. Malala wants her story to be an example for girls and women everywhere: that no matter the forces that hinder you, your rights and freedom are worth it.