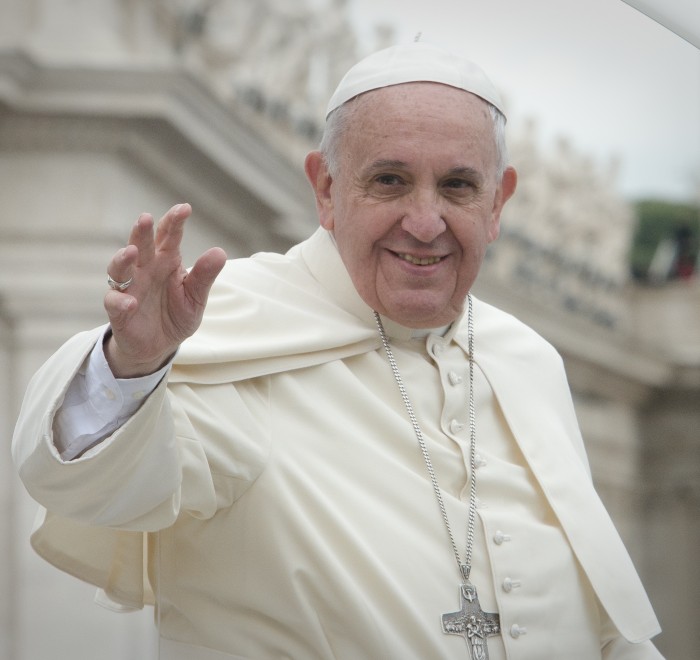 Let's be real, religion isn't everyone's cup of tea. In this day and age, it seems more socially acceptable to talk about the latest drugs you've taken rather than how close you are with the lord. During Pope Francis's visit to New York, we have come to see many sides to him that make us love him, regardless of our religious convictions or in some cases non-conviction.
In the age of  the Kardashian's, it is a relief to see that a spiritual leader like the Pope can draw such a generous crowd.
Speaking to congress, the Pope referred to America as the land of the free and the home of the brave, for which he received a roaring applause and a standing ovation. All this not even one minute in to his 50 minute speech. He went on to remind members of congress of their role " you are called to defend and preserve the dignity of your fellow citizens, in the tireless and demanding pursuit of the common good–for this is the chief aim of all politics." We certainly hope the candidates for the 2016 elections are taking note of this essential point.
Pope Francis's message was one of unity and a higher moral ground. He provided tangible suggestions for how the United States might accomplish such goals. Among his suggestions were the abolishment of the death penalty as well as environmental legislation and fervent condemnation of arms trading.
During an evening prayer service led by the Pope at St Patrick's cathedral, he didn't shy away from issues that have marred the catholic church. Addressing the clergy Pope Francis acknowledged the shame and scandal caused by sexual abuse in the catholic church. Lastly the spiritual leader acknowledged the US nuns, calling them women of strength and asking "what would the church be without you?"
Pope Francis has been a symbol of humility and kindness at an important time in our society. His interaction with the disabled, the poor, congress and clergy has shown him to be a man of integrity. He asked the people of America to pray for him. "If there are among you any who don't believe, or you cannot pray, I ask you please to send good wishes my way.
All of us at the FemLeague are sending our best wishes to Pope Francis.